Charlotte's Web by E. B. White is a wonderful book for your elementary classroom novel study teaching unit. There are so many fantastic Charlotte's Web activities you can include in your lesson plans, which will really help your students analyze the story elements and make learning fun! It is the perfect book for young readers and great to use as a basis for whole class, guided and  independent reading. Read on for my top activities for this great story of true friendship, Charlotte's Web.
Charlotte's Web Plot Summary
If you are new to the story, here's a quick plot summary for Charlotte's Web. This chapter book, set on a farm, tells the story of the pig Wilbur, the runt of the litter. He is brought up as a pet by eight-year-old Fern. When Wilbur begins to grow, he is sold to Fern's aunt and uncle's farm. Here, Wilbur befriends a tiny spider, who lives in the barn, called Charlotte. When Wilbur learns that he will be slaughtered, Charlotte devises a plan to save him, which involves spinning words of praise about the pig in her web, including the words 'some pig'. Charlotte's plan brings attention and fame to Wilbur, saving him from the slaughterhouse.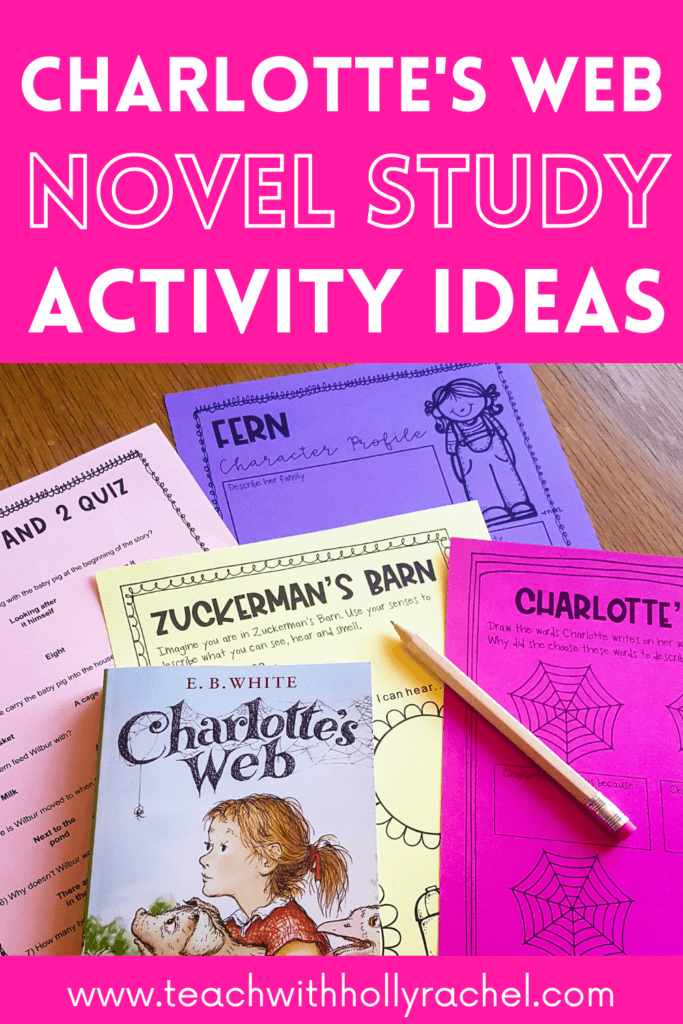 Charlotte's Web themes include friendship, determination, teamwork and growing up. All important topics for your class to study. This book is the perfect story for your class novel study. There are so many reasons to teach novel studies in your classroom. Let's look at some of the reasons why teaching novel study units are such a great addition to your curriculum:
They expose students to plot structure and new vocabulary, which has an enormous impact on their own language development and writing skills

Novel studies also allow students to experience things they wouldn't have done otherwise

They help students to see events from others' point of view

They allow students to develop understanding and skills to make sense of different situations

And, of course, for enjoyment and to promote their love of reading
Let's look at my favorite Charlotte's Web novel study activities for developing literacy skills. All of these activities, alongside many more, are all included in my no-prep Charlotte's Web Novel Study Unit resource available on Teachers pay Teachers, packed full of worksheets, printables and reading comprehension chapter quiz resources, designed to make your lesson planning and teaching a breeze!
Activities for Charlotte's Web Character Studies
Character studies are a key element of a novel study. It is through the characters that the reader experiences the events of the story. Create an anchor chart on each character for students to refer to, Ask students to complete a character study on the main characters in Charlotte's Web including Fern and Wilbur. Ask students to include details on character traits, personality, relationships with others and how they change and develop as the story progresses. In addition, character comparisons are a great way to get students thinking about how different characters react to situations in the story. Students could record their comparisons as Venn diagrams. Interesting characters to compare include Charlotte and Templeton, the barn rat.
Charlotte's Web Setting Activities
Have student use their senses to describe settings within a novel. Provide discussion questions and ask students to imagine they are on the farm in Charlotte's Web and to describe what they see, smell and hear. Charlotte's Web is great for evoking these senses. This a key opportunity to develop descriptive vocabulary. Graphic organizers are great to use for this activity for students to organize their thoughts. Ask students to work in talk partners or in small groups to describe Charlotte's Web settings verbally before beginning their writing. This is a great way to get students thinking about vocabulary words and descriptive language. Record the words students generate on a word wall for students to refer to when writing their own setting descriptions. This is a great way to introduce students to new vocabulary.
Charlotte's Web Novel Study Reading Strategy Activities
During the novel study, it is important to develop key reading strategies. Allow students to make connections between the novel and themselves. the world as well as other novels. Thinking about cause and effect of key events is also important during the novel study and a good starting point for class discussions. It is important to develop reading comprehension skills. This can be done through chapter questions, where students have to think back on the story and refer to the text. I also love asking students to create chapter summaries, recording the key events in the novel. Students could also create a book review for Charlotte's Web. They could summarize the plot, describe a character and think about who would like to read the book.
Writing Tasks
Writing activities for Charlotte's Web is where the students can really show their creativity and become fully immersed in the novel and really empathise with the characters. It is the perfect way to use the novel as basis to explore different writing styles. Some creative writing tasks based on Charlotte's Web include letter writing to key characters. Students write a letter, in role as Fern, to her father, persuading him to allow her to keep the piglet Wilbur. They think carefully about crafting an argument, including writing an introduction, making a point, backing it up with evidence and finally drawing all their points into a conclusion.
This is also a good opportunity for students to write instructions on how to make a spider web, thinking carefully about clear and precise writing that others can follow. Students could swap instructions afterwards and have a go at following them to make their own spider web.
Charlotte's Web themes can be explored through writing activities. Students can look at a situation from different points of view is another writing activity that can be planned around Charlotte's Web. Students could exploring dilemmas, for example, should Wilbur continue with his escape or should he return to the barn? This will allow students to look at both sides of the argument. Finally, a fun activity in which your students can get in role as reporters is to write a newspaper article about the words that appear in the web. This is a great way for students to think about he features of a newspaper article including facts, quotes, pictures and captions.
Vocabulary
In Charlotte's Web, Wilbur learns many new words from Charlotte. This is a key opportunity for students to find out the definitions of new words they may not have come across before. This could include looking words up in a dictionary and understanding how words are alphabetically ordered, a key vocabulary skills. Ask students to think about the words Charlotte has written in her web and why she has chosen those words to describe Wilbur.
Cross Curricular Charlotte's Web Activities
Incorporate learning across the curriculum from science to social studies using the topics in the book as a basis for learning. A novel study is great opportunity to learn new facts about the subject of the book. In Charlotte's web, some of my favorite cross curricular activities for Charlotte's Web include researching the spider life cycle, creating fact files on how to look after a pet and learning about farm animals.
The above are some of the activities that you will find in my fun unit Charlotte's Web Novel Study Activities. This book study unit comes packed with a variety of activities including no-prep Charlotte's Web worksheets and printables based on the novel, saving you hours of time when it comes to creating your lesson plans.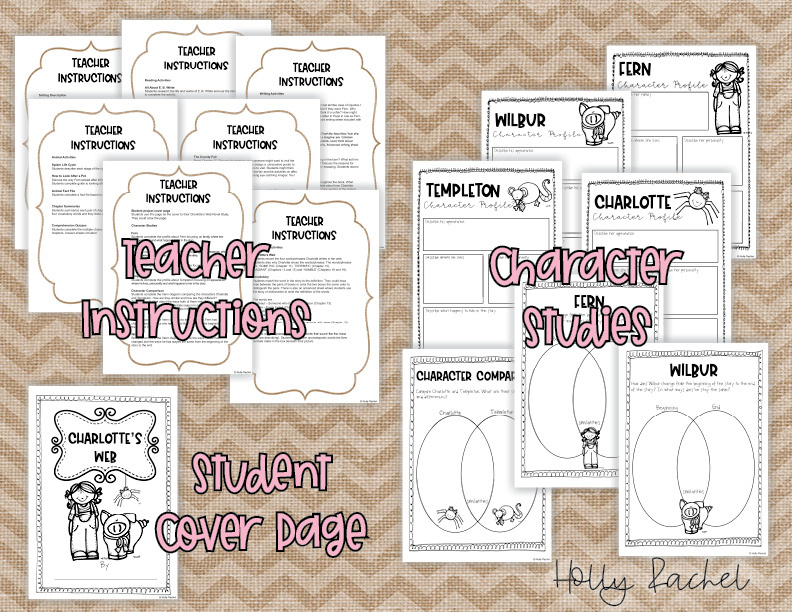 The Charlotte's Web resource includes full teaching instructions and ideas for implementing the activities. Also included are fun activities on character analysis, Charlotte's Web settings, vocabulary activities, reading activities and summarizing. Explore Charlotte's Web themes through fun and engaging writing activities.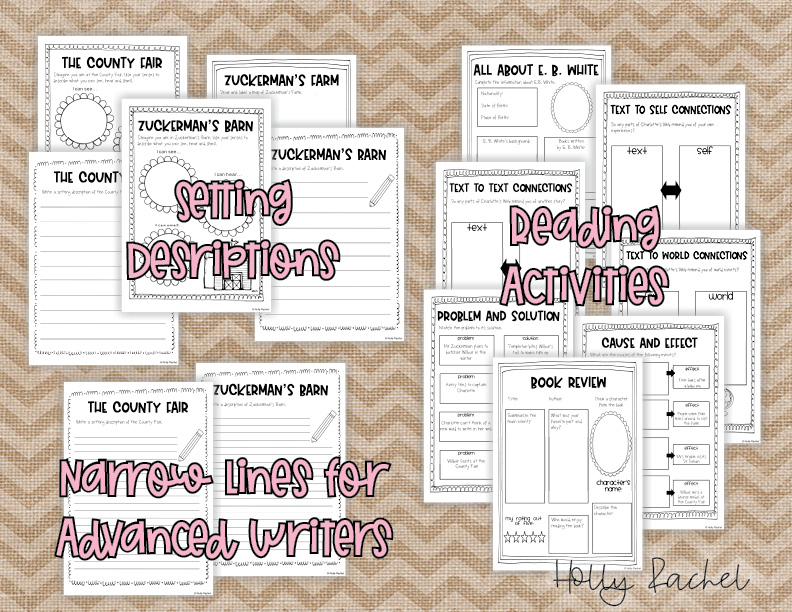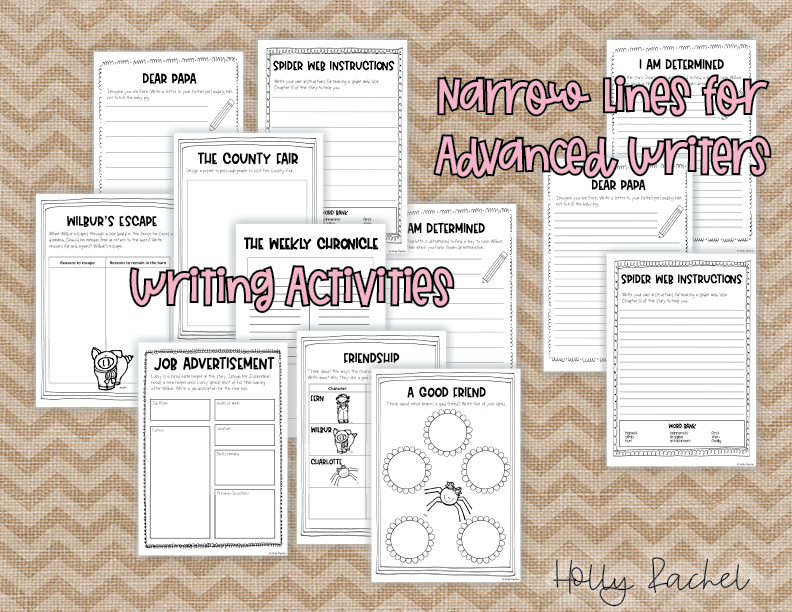 The novel study activities packet also includes Charlotte's Web activities by chapter. There are multiple choice comprehension questions quizzes on all chapters in the novel with the relevant answer key included for you to assess your students' understanding. You can also use these as close reading activities.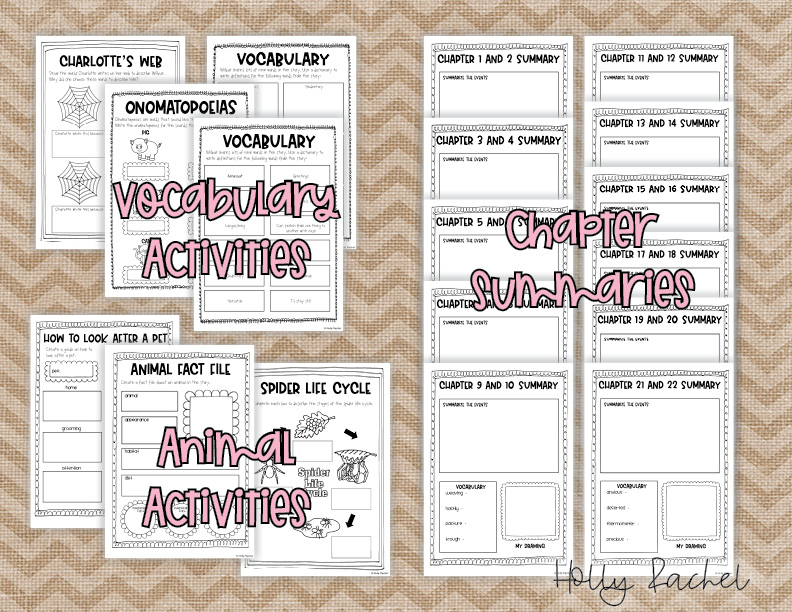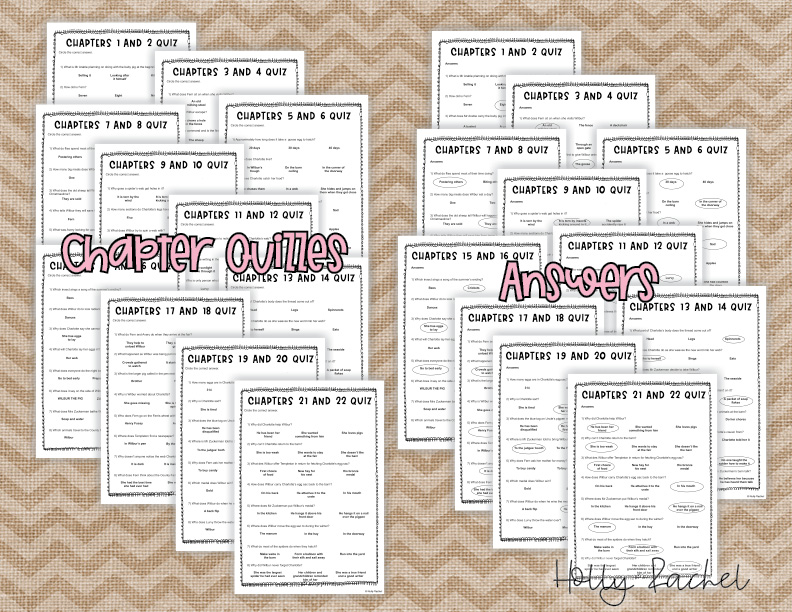 Grab this fantastic Charlotte's Web Novel Study today!
Get a FREE Charlotte's Web word search delivered straight to your inbox when you join my email list. Click here to find out more and grab this free resource!
Check out my ideas for other novel studies:
Charlie and the Chocolate Factory