Deprecated
: The PSR-0 `Requests_...` class names in the Request library are deprecated. Switch to the PSR-4 `WpOrg\Requests\...` class names at your earliest convenience. in
/var/www/wp-includes/class-requests.php
on line
24
James and the Giant Peach by Roald Dahl tells the story of James, a lonely boy who lives with his cruel Aunt Sponge and Aunt Spiker. The thing James longs for most in the world is friends. One day a magical peach begins to grow on a tree in James' aunts' garden and doesn't stop until it is the size of a house! Intrigued, James discovers a hole in the side of the peach and crawls inside. There he meets a host of fascinating characters and embarks on an adventure that will change his life forever.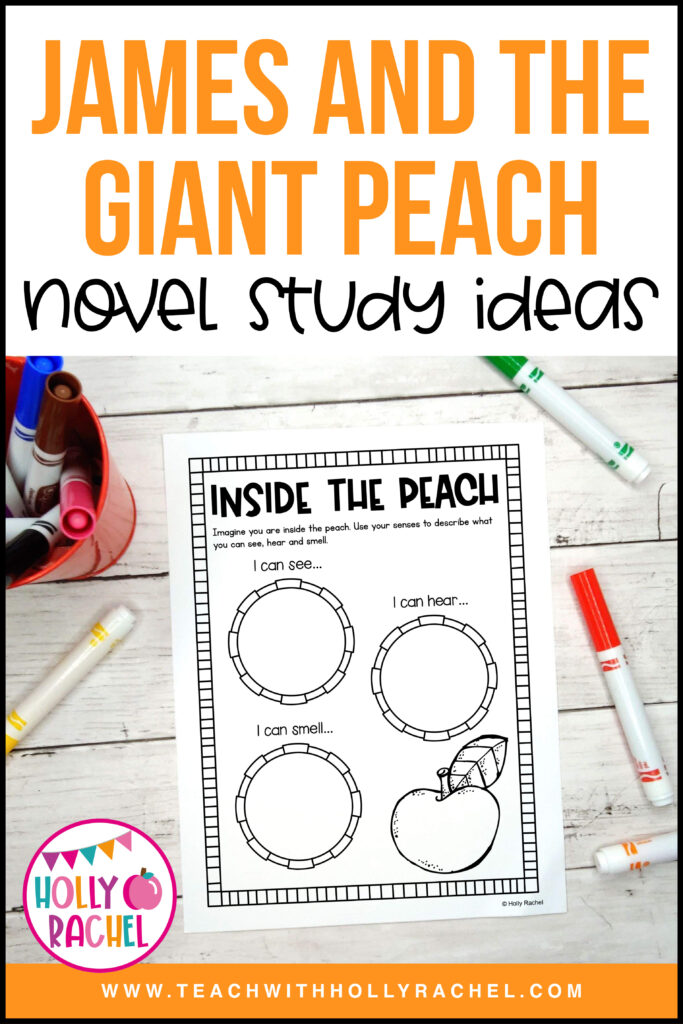 James and the Giant Peach is a wonderful book to base a classroom novel study around. Basing a unit of work around a particular book is a fantastic way to help students to make connections across the curriculum and it's so much fun! This book deals with many issues including:
Loneliness
Friendship
Teamwork
Read on for some fun classroom activities based around James and the Giant Peach! These activities, alongside many more, are all included in my James and the Novel Peach Novel Study.
James and the Giant Peach Character Study Activities
There are some very interesting characters in James and the Giant Peach, with a whole range of strengths and flaws. The characters have to deal with difficult situations and overcome problems. Try asking students to choose an event in the story and study how a character reacts, thinking about their reasoning and motivation.
Setting Activities
Setting descriptions are ideal for developing descriptive vocabulary. Choose a setting in story such as James' aunts' house, inside the peach, outside on the surface of the peach during the storm or New York. Have students plan their setting description by choosing words associated with each sense to describe the setting. What can they see, hear and smell inside the peach? More advanced writers could record similes or metaphors to describe the setting. Then ask students to use their ideas to write sentences to describe the peach based on their ideas. This is also a great opportunity to use a thesaurus and expand vocabulary.  
James and the Giant Peach Novel Study Reading Activities
Reading skills are a key focus during a novel study. It is important that students think about making connections between the story and themselves, other books and the wider world. Try asking students to think about particular events and why they happened, focusing on cause and effect.
James and the Giant Peach Writing Activities
This is where students can put the new vocabulary they learnt in the story and their imagination into action! Throughout the novel, ask students to create a range of pieces of writing across different text types. Other James and the Giant Peach writing activities include: James' diary when he first discovers the Giant Peach, How does he feel? What is he thinking? What are his hopes? Another piece of imaginative writing is to ask your students to invent the way the Cloud-Men create a particular type of weather. You could give the students a weather or ask them to choose their own. As well as fiction writing, there are many opportunities for non-fiction writing such as a newspaper article of the peach arriving in New York, instructions on how to travel to New York or ask your students to write their own weather report.
James and the Giant Peach Vocabulary
Throughout the story, many of the characters sing songs containing rhyming couplets. A great activity is to take some of these words and ask your students to think of as many words that rhyme with these words as they can. This is a great way to look at spelling patterns also. Also ask students to research new words they come across and write their own definitions.  
Cross Curricular James and the Giant Peach Activities
There are lots of science activities you could base around James and the Giant Peach. These could could include a floating and sinking science experiment, investigating the life cycle of a peach tree or creating a bug fact file.
You can find all the activities mentioned in this post in my James and the Giant Peach Novel Study to save you hours of time. The unit includes full teaching instructions and ideas for implementing the activities. Also included are pdf worksheets on character, setting, vocabulary work, reading activities and summarizing.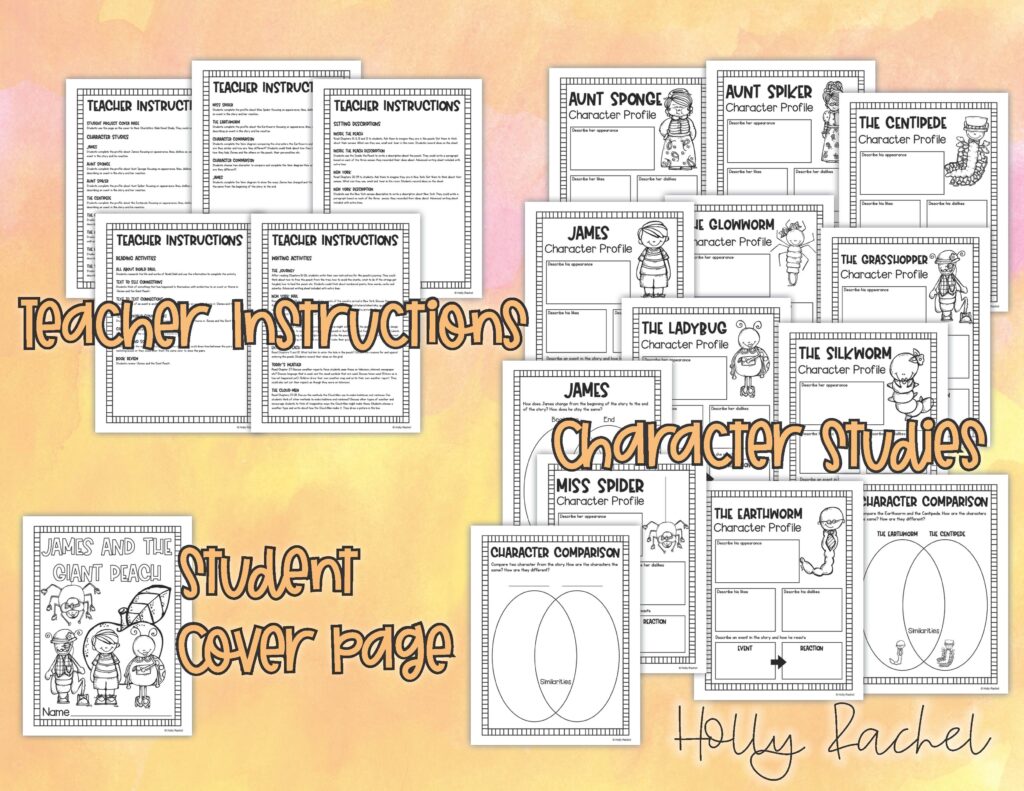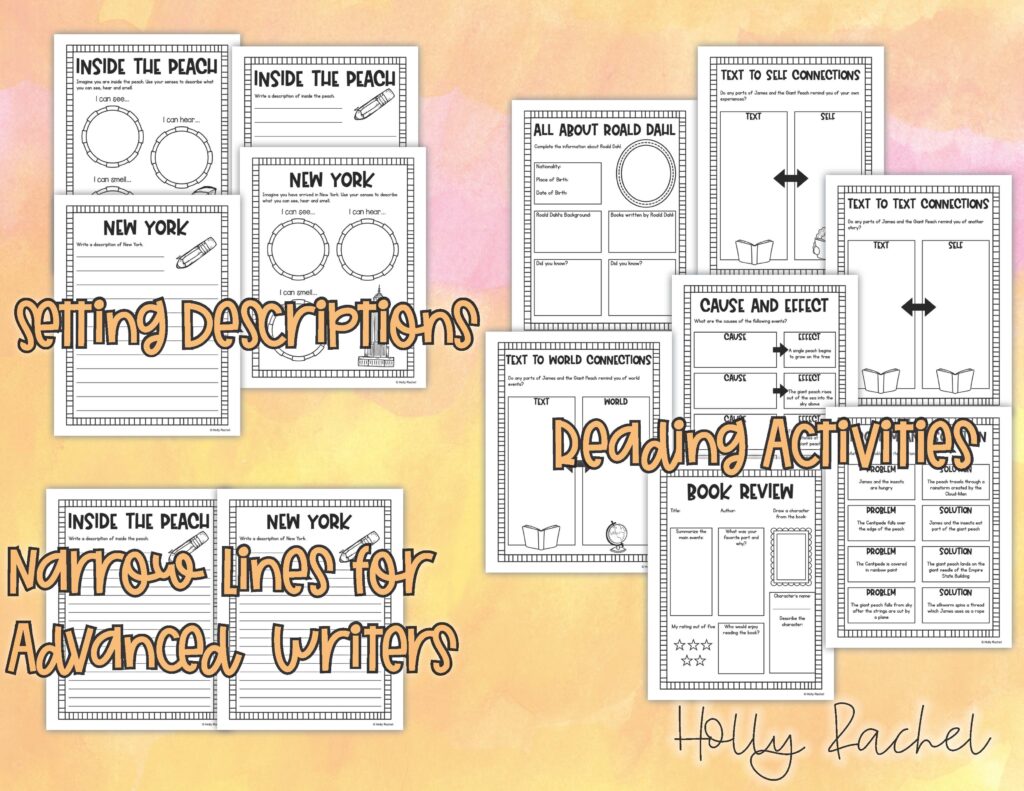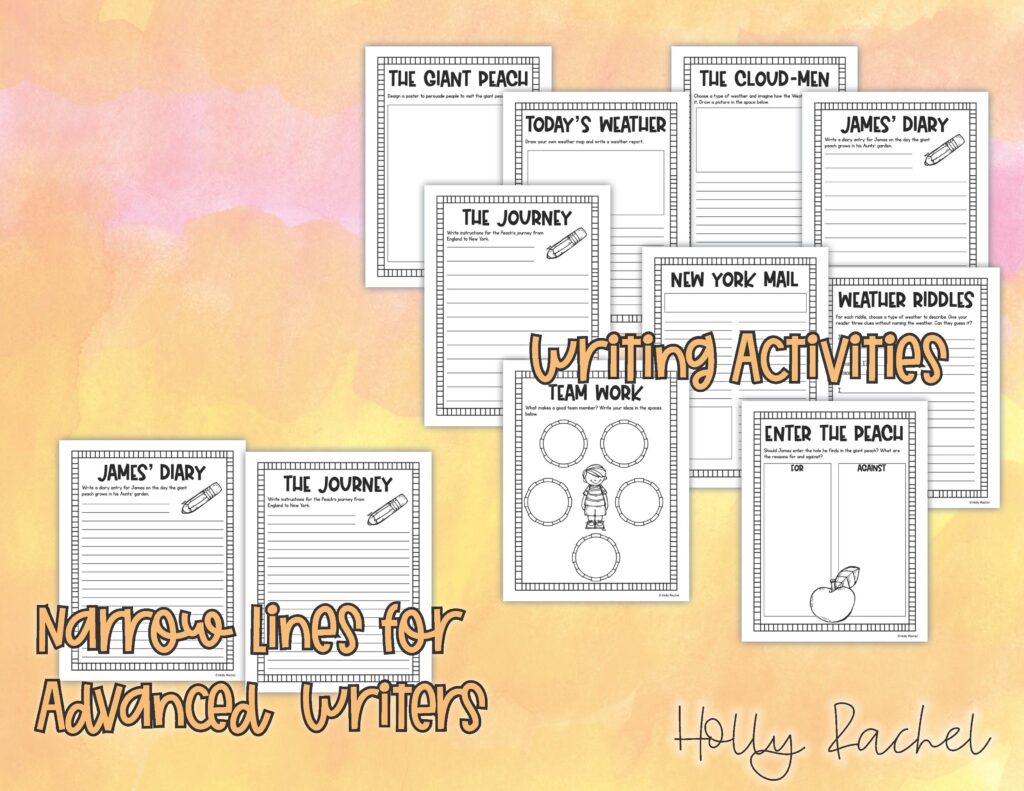 It includes James and the Giant Peach chapter questions to assess your students' understanding of the novel.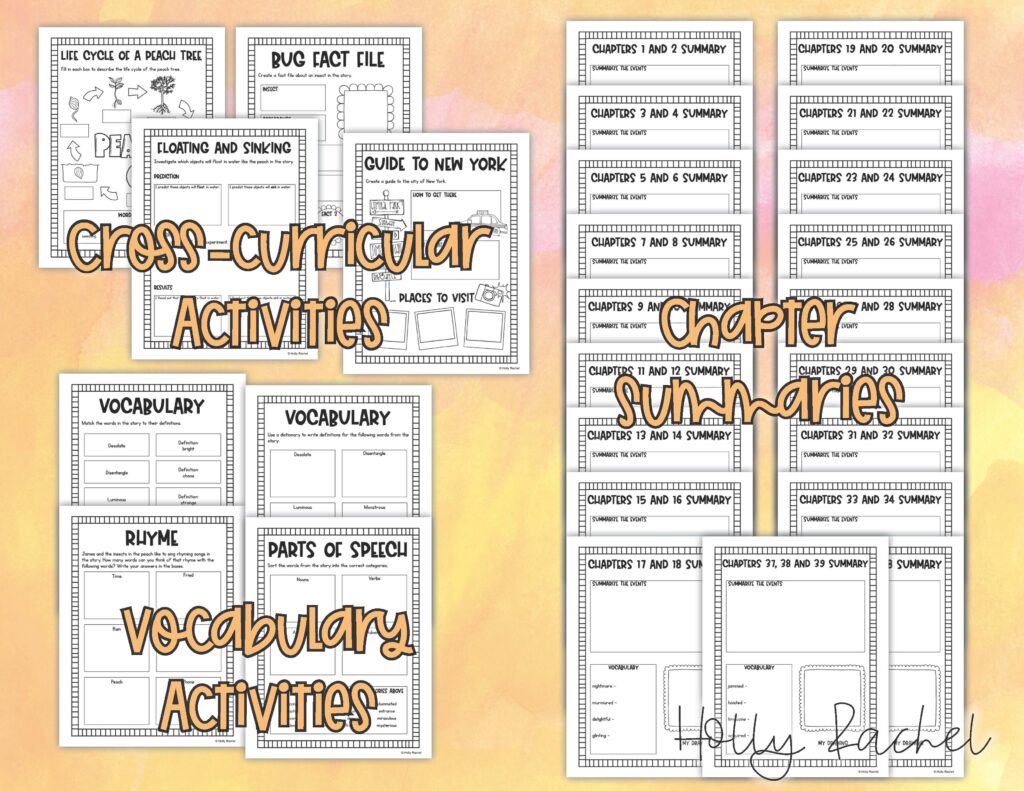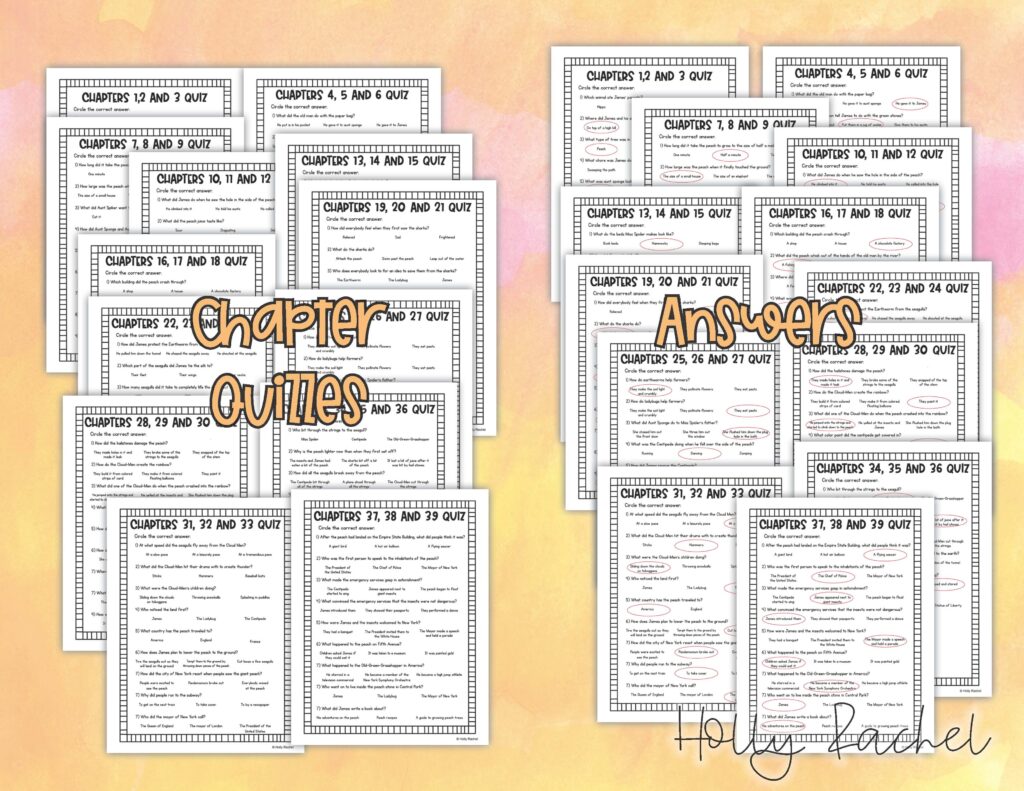 Grab your James and the Giant Peach Novel Study today!
 Check out my ideas for other novel studies:
Charlie and the Chocolate Factory