Frindle novel study activities for this wonderful book by Andrew Clements should engage your students and help them gain a deeper knowledge of the story. If you are new to the book, here's a quick summary for Frindle. After being given an extra homework assignment on the origins of the dictionary by his teacher, Mrs Granger, Fifth grader Nick Allen decides to invent his own word for a pen, 'frindle'. Nick rallies his friends and fellow schoolmates to use the new word, much to the despair of Mrs Granger. Interest in the new word begins to catch on and spirals out of Nick's control in a way that neither Nick nor Mrs Granger could ever imagine.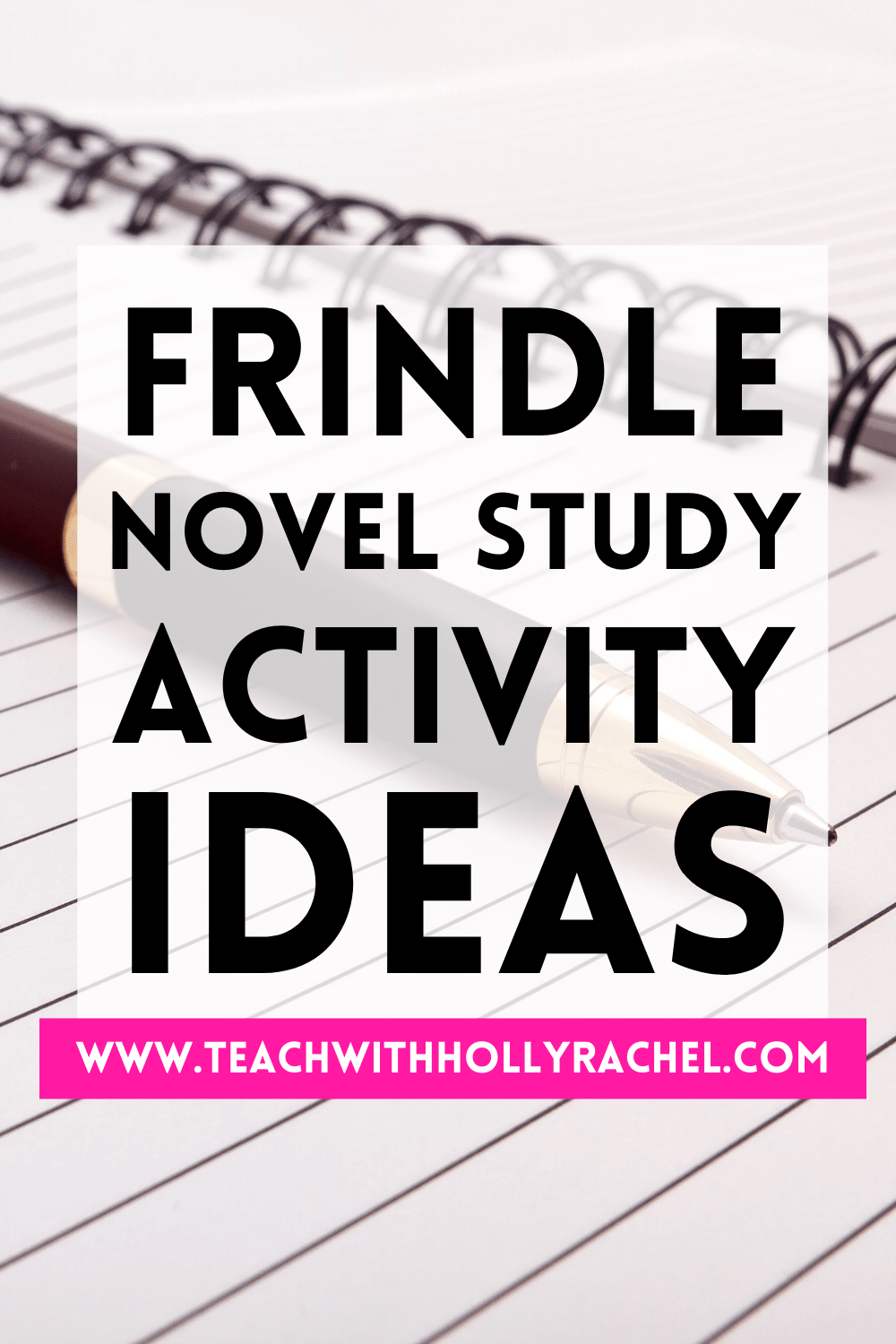 Frindle the book deals with many important issues and themes. These include:
Teamwork
Leadership
Control
Rules
Vocabulary
There is so much that students will gain from reading this book and so many learning opportunities. Read on for my top Frindle novel study activities and ideas for your elementary classroom book project.
Frindle Novel Study Character Studies
The story centers around Nick, a creative, intelligent student, full of ideas, who knows exactly what to do with them, whether that be distracting a teacher at the end of the lesson to avoid them giving out homework or getting a teacher on board with his idea to turn the classroom into a tropical island. Nick is a strong leader, able to get others on board with his ideas. Creating a description of Nick is a great way to understand his character and see things from his point of view. Activities could include recording likes and dislikes, how he reacts to certain events in the book, using descriptive language to describe his character.
Mrs Granger, seemingly opposed to Nick's newly invented word 'frindle' is another interesting character to study. A character comparison between Nick and Mrs Granger is a great way to identify their similarities and differences. It is also important to look at how the characters change throughout the story and what Nick learns as the story develops.
Reading Strategy Activities
Thinking about the themes in the story is a great way to summarize the novel. So, what is the main idea of the book Frindle? There are several important ideas including leadership, power, responsibility, rules and language. Ask students to think about what the book tells us about these themes. Cause and effect is also a great activity for students to think about the plot and the consequences of events. Students could match events in the story to their cause. Other reading strategy activities include making connections in the novel and matching problems with their solutions in the story. Ask students to create a book review for Frindle. Students could identify who might enjoy the book, give it a star rating, and summarize the plot.
Writing Tasks
Novel study projects are great opportunities for writing activities and Frindle is no exception. Rules are an important theme within the book. Rules at home, school as well as in language feature heavily in the story. Students could create their own set of the rules for the classroom. Students could also imagine what is written in the letter Mrs Granger gives to Nick and write their own letter to him. Another fun writing activity is to write the newspaper article about the frindle story in the Westfield Gazette. This is a great opportunity to think about the features of a report. It is fun to lay the writing out in the style of a newspaper with a heading, columns, pictures and captions.
Frindle Novel Study Vocabulary
Vocabulary is a key theme in Frindle. students could research the origins of the dictionary and record the facts they find, as Nick does in the story. Discuss how words are organized in the dictionary and how listing them alphabetically helps words to be found easily. Students could order words in alphabetical order. Include some words that begin with the same letter and discuss the process of looking to the next letter if the first letter in the same to determine the alphabetical order. Students could create their own words for everyday items, perhaps thinking about noises they make, how they feel, actions they make etc. to develop their new word. This a fun activity that students would really enjoy! Students could also research new words in the book and use a dictionary to find their definitions.
Cross Curricular Frindle Novel Study Activities
One fun cross curricular activity is to create a map of the setting of the story, the town of Westfield. Students think about the locations mentioned in the story such as the school, Nick's house, Mrs Granger's house, the Penny Pantry, and even the town sign on Route 302. This helps students put the story into a context and really bring the story to life, as well as being great practice for map work skills.
An interesting activity is to think about how the word 'frindle' would have spread across the country today compared to how it spread in the story, written in the 1990s. Ask students to think about the different methods of communication we have today compared to the 1990s such as access to email, internet, social media etc. Would this have helped or hindered the spread of the word?
If you would like to try any other of the book activities mentioned above, you will find them all in this wonderful Frindle Novel Study. It is packed with over 100 pages of  no-prep book activities which will save you time and that your students will love.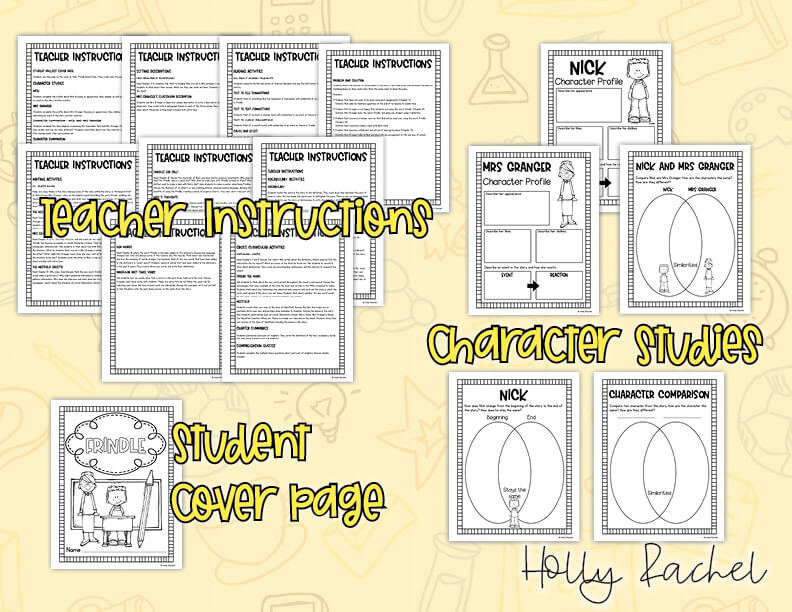 Find templates for setting descriptions and reading activities including making connections, cause of effect, problem and solution and a book review.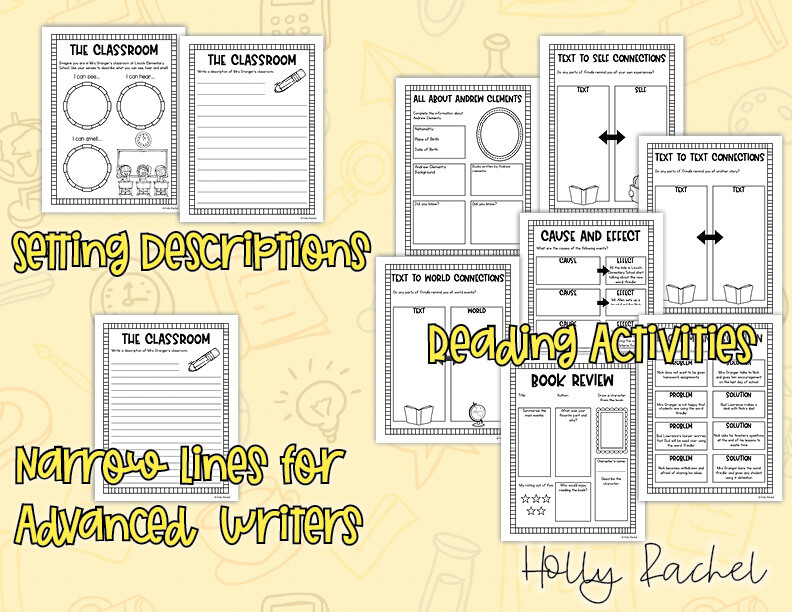 Packed full with fun Because of Frindle writing activities.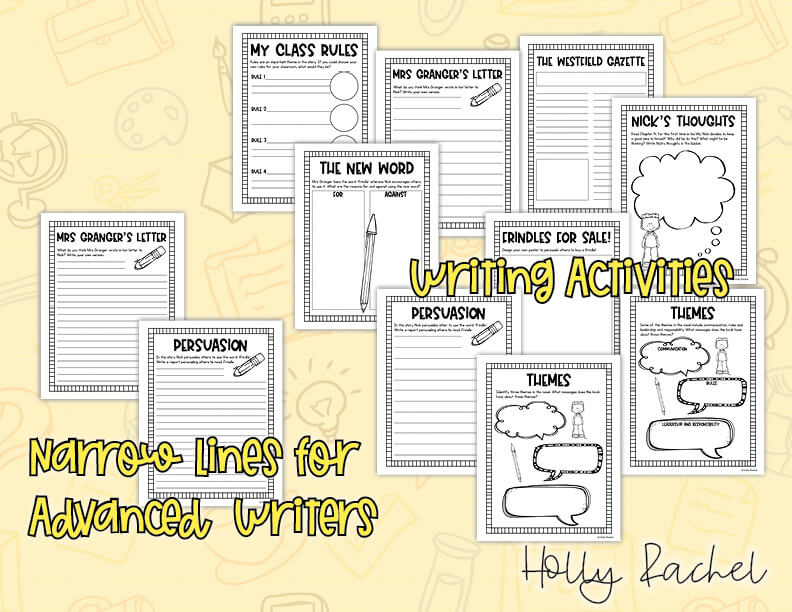 It comes complete with vocabulary activities as well as chapter summary worksheets.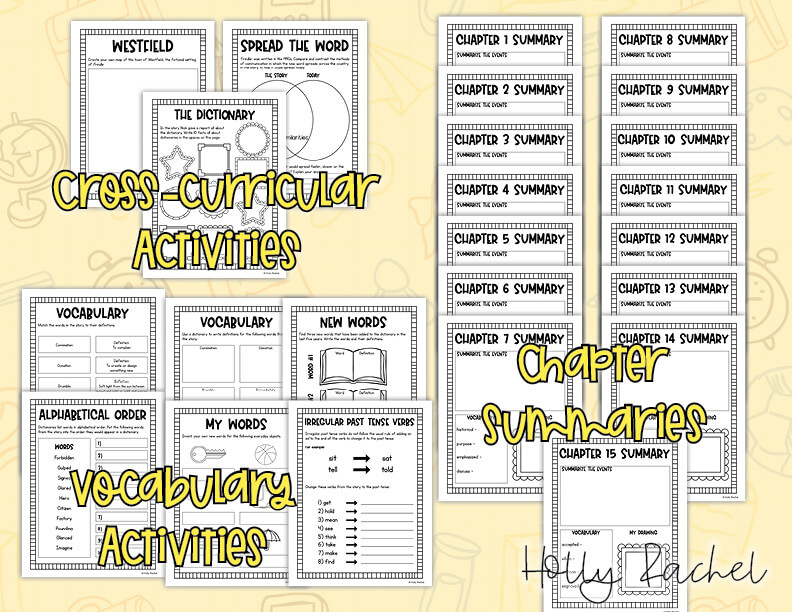 Also included are chapter summary questions complete with answer keys, perfect for assessing student comprehension of the story.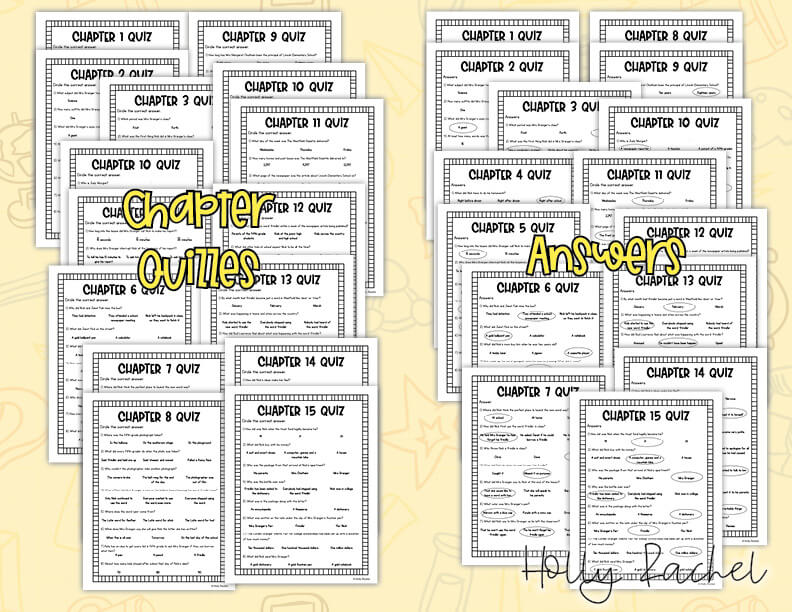 Grab this fantastic Frindle Novel Study today!
Check out my ideas for other novel studies:
Activities for any novel study
Charlie and the Chocolate Factory